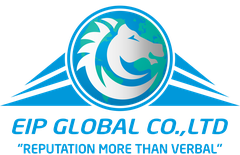 Post by Công ty TNHH EIP Global at 21/07/2020
JUMBO BAG (FIBC)
Jumbo bag (big bag, FIBC, bulk bag) is a large size packaging made from woven polypropylene (PP) used to contain, store, and transport products and materials with a load of 500kg - 2500kg.
However, in reality, the most common demand is a 1-ton jumbo bag (1000kg). Because the size of jumbo bags will fit with packing equipment, transportation, absolutely safe to use, and easy to manage and inventory goods.
Structure
Jumbo bags with body fabrics with a thickness of woven yarn (quantitative fabric) suitable for the properties of goods contained inside. For fine powder products or products that need moisture, jumbo bag waterproofing will be coated with another layer of PE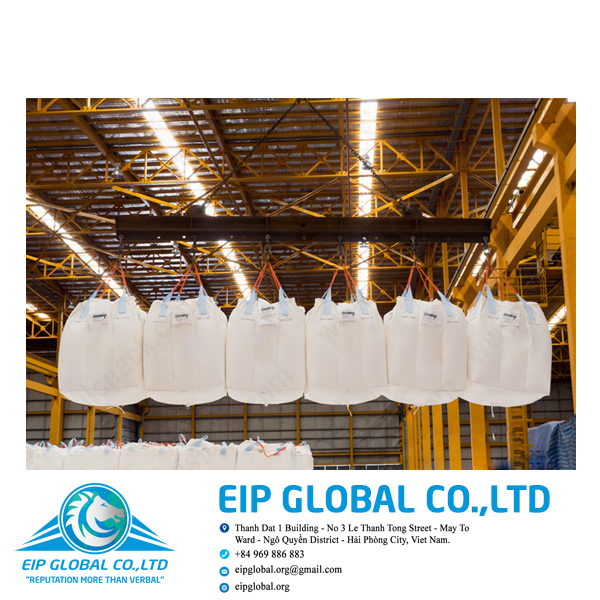 Designs:
• Jumbo bags have body structure in 2 types: square and round.
• Top with 3 basic designs is filling spout, duffle top, and tie-down flap.
• Depending on the nature of the product and equipment, the bottom of the bag may have a discharge spout and plain flat bottom.
Most jumbo bags are designed with 4 lifting straps with a loop of 25cm - 30cm, which helps to transport bags by forklift quickly and safely. Jumbo straps are sewn by high-density woven webbing, with a thickness and belt width suitable for the load of the bag. In some cases, jumbo bags need to be transported by crane method, it will be designed with 2 horizontal belts to connect 4 lifting straps.
Printing technology
FIBC bags can be printed flexibly from 1-2 sides with content printed from 1 - 4 colors.
Advantages
• Jumbo bags are often suitable for containing goods such as rice bags, coffee bags, mineral bags, etc.
• 1-ton jumbo bag helps convenient in packing and transporting goods, saving storage area
• Jumbo bag is a suitable solution for exporting granular goods, flour, ...
• In addition, the big bag is also sewn with an A4 document bag so that customers can give the information sheet of the product containing jumbo bag, helping the product management is convenient.